氨Ÿƒ•ª‰ð净‰»'•'u MODEL-WGA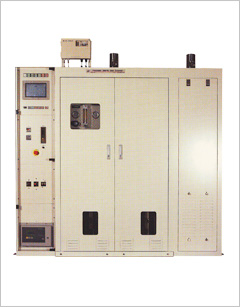 Model WGA NH3 decomposition and detoxifying equipment is primarily intended for treatment of waste gas from the GaN manufacturing process.
An effective combination of ordinary-temperature dry detoxification and catalyst decomposition based-detoxification ensures lower running costs, easier maintenance and less environmental impact.

Model WGA detoxifying equipment is designed to decompose NH

3

by means of a catalyst into nitrogen and hydrogen, thereby achieving full detoxification.
Causes no NOx emission which can be the byproduct of NH

3

detoxification by oxidization.
Because it is not a burner type (combustion type), there is no need for propane supply equipment and drainage system. (However, A20 uses a water-cooled decomposition column.)
Ensures that the target harmful gases in the detoxified gas are removed to ACGIH/TLV-TWA in concentration.
The adsorption and regeneration type does not require replacement of the after-treatment column detoxifying agent, yielding lower running costs.

Model
Equipment
dimensions
W~D~Himmj
After-treatment method
Inlet NH

3

flow rate
[ℓ/min](nor)
Inlet total flow rate
[ℓ/min](nor)
WGA-7A-2-A3
1,900~600~1,900
A3 decomposition column
(dry detoxification type)
12.4
37.6
WGA-12A-2-A5
2,550~800~1,900
A5 decomposition column
(dry decomposition type)
20.6
62.4
WGA-62B-2-A10
3,300~1,000~1,900
A10 decomposition column
(dry decomposition type)
35
115
WGA-62B-2-A20
3,100~1,350~2,200
A20 decomposition column
(dry decomposition type)
82.6
250.4
WGA-62B12A-2-A20-M
3,400~1,350~2,200
A20 decomposition column
(regeneration type)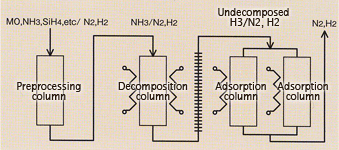 PFCG"}‰Á热•ª‰ð'•'u
Eliminates the need for any ancillary facility.
Offers space-saving and lower-cost features.

‹z•Ä¶Ž®"rŸƒ处—'•'u
Because the adsorption columns are regenerated with water, the catridge lifetimes are long.